EMERGENCY WATER CLEANUP FAYETTEVILLE
Emergency Restoration Company LLC Responds Quickly

Emergency Water Cleanup Fayetteville, NC: Why "Emergency Restoration Company" Is the Top Choice
Quick and Efficient Service
One of the foremost qualities of the "Emergency Restoration Company" is their ability to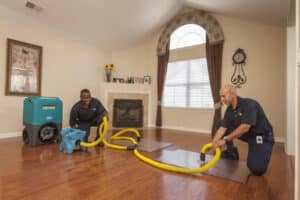 respond swiftly to emergency water cleanup Fayetteville. When dealing with water emergencies, time is of the essence. The faster the water is removed and the area dried, the lesser the potential damage. "Emergency Restoration Company" prides itself on its immediate response time, ensuring that Fayetteville residents receive timely assistance when they need it the most.
Collaboration with Insurance Companies
A unique and immensely beneficial aspect of "Emergency Restoration Company" is their close collaboration with all major insurance companies. This ensures that not only is the damage restored professionally, but the costs associated with the repairs and restorations are adequately covered. For property owners, this translates to a smoother, more streamlined process without the worry of out-of-pocket expenses. We work closely to expedite the entire process.
Expertise and Experience
 Having serviced the Fayetteville, NC area for years, "Emergency Restoration Company" brings a wealth of experience to the table. Their team of experts is trained in the latest techniques and uses state-of-the-art equipment to ensure that water damage is addressed effectively and efficiently.
Safety Protocols
Water emergencies can pose various safety risks, from electrical hazards to potential structural issues. The team at "Emergency Restoration Company" is trained to assess and address these risks, ensuring the safety of the occupants and the integrity of the structure.
What To Expect
For Fayetteville, NC residents and property owners facing water-related emergencies, "Emergency Restoration Company" stands out as the top choice. Their quick response time, collaboration with insurance companies, and extensive expertise make them the go-to service provider in the region. In times of crisis, it's reassuring to know there's a trusted company ready to assist.